22 MINUTE HARD CORPS™ WORKOUT
WATCH THE WEIGHT
"FALL OFF"
If you "Fall In" for 22 minutes a day for just 8 weeks, and follow this basic-training program, you will see outstanding results!
"I'M TONY
HORTON.
I'M GOING TO MAKE GETTING IN SHAPE AND LOSING WEIGHT REAL SIMPLE.
WATCH THIS VIDEO AND I'LL SHOW YOU WHAT
22 MINUTE HARD CORPS
IS ALL ABOUT.
Do this program 22 minutes a day, plus my simple approach to eating.
After 8 weeks, you are going to walk away 'Boot Camp Fit'—maybe even in the best shape of your life. Yeah, the workouts are quick. But I guarantee you, they will be intense. That's how we get results..."
Look At
The Results

22 Minute Hard Corps Delivers…
Week 0
Week 8†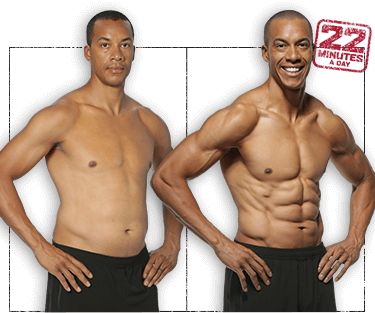 Name Juliez F. Age 38
Veteran of
Blank
Week 0
Week 8†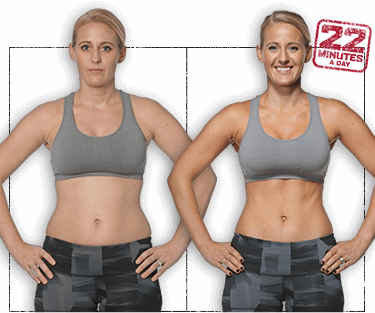 †Results vary depending on starting point, goals, and effort. Katie is a Beachbody employee.
Name Katie S. Age 29
Veteran of
Blank
Week 0
Week 8†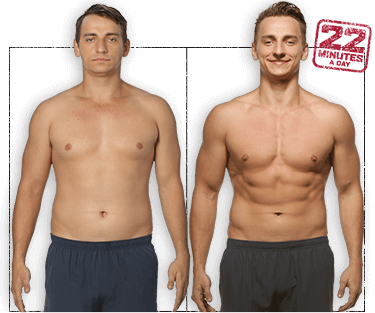 †Results vary depending on starting point, goals, and effort.
Name Vitaly Z. Age 23
Veteran of
Blank
PROBLEM:
I don't have time to exercise.
SOLUTION:
"You want results? Give me 22
Minutes a Day for 8 weeks."
"Just
Show Up…
Keep Up…
And you Will
Get in Shape.
We take this one day at a time. All I ask is that you report for your workout with your mind right and ready to get your butt in gear. There's nothing fancy here—just simple, straightforward exercises. You give me every rep, and you'll get back results."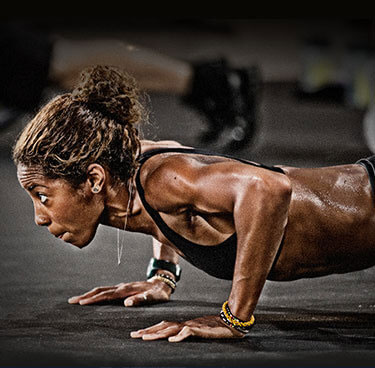 "I'M NOT GOING TO WASTE YOUR TIME.
Over the years, I've had the honour of training with servicemen and women at military bases around the world. And I've learned a whole lot from their approach to PT (Physical Training).
That's how we roll in 22 MINUTE HARD CORPS. I combined the laser focus and no-nonsense simplicity of Military PT with the science behind quick workouts that deliver maximum results. So you get a program that works your whole body and that's straightforward enough for you to do on Day One."
PROBLEM:
How do I know I'll get results in just 22 minutes?
SOLUTION:
"We know it will work for you because we tested it. It works."
"We're going to push you hard for 22 minutes. So you do the program—all 8 weeks—and you'll get the results, or you'll get your money back (less s&h)."
It Worked For This Guy…
Week 0
Week 8†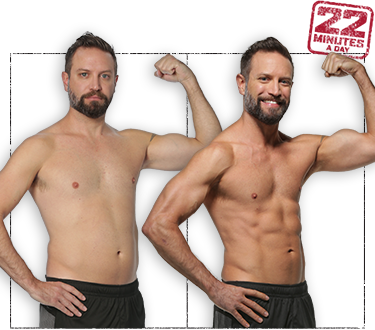 †Results vary depending on starting point, goals, and effort.
Name Cary W. Age 39
Lost 11 Pounds
"Before 22 Minute Hard Corps, I was the ultimate example of Skinny Fat. I was shocked by how these 22-minute sessions transformed my body. I am a new person!"
Veteran of
Blank
Worked For Her, Too…
Week 0
Week 8†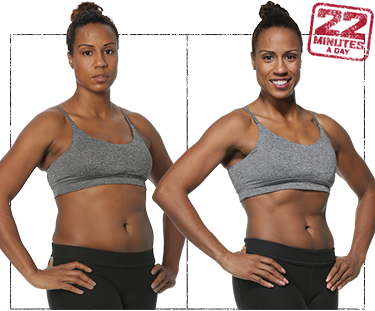 †Results vary depending on starting point, goals, and effort.
Name Lourdes G. Age 32
Lost 16 Pounds
"It's intense, it's quick, and it's effective. I was in the Army and I'm now the same weight as when I left boot camp."
Veteran of
Blank
PROBLEM:
I'm too out of shape for this program.
SOLUTION:
"There's a modifier for every workout."
"There's a modifier in the group who you can follow until you're up to speed with the rest of the platoon. And I'll be there when you need a push.
Failure is not an option. I'm going to do what it takes to power through this program in just 22 minutes a day."
PROBLEM:
I Need Variety To Stay Interested.
SOLUTION:
"8 Unique Workouts Will Keep You Guessing. You'll Love It!"
BASIC TRAINING
8 WORKOUTS
22 MINUTE HARD CORPS takes you through a series of total-body rounds designed to maximize strength gains and fat loss within the 22-minute workout window. Each day, you'll alternate between functional resistance, cardio, and core-focused workouts. Your job...is to deliver every rep.
Cardio 1
This 7-move workout gets your heart pumping from Minute One. Keep up with the platoon and earn a massive calorie burn.
Cardio 2
This is basic training, but there's nothing easy about it. It's 3 rounds of 7 exercises, just like Cardio 1, but these moves will push your fitness even farther.
Cardio 3
Alternates between floor work and plyo moves for 3 hard-driving rounds. Your mission is to deliver every rep.
Core 1
It's called "Hard Corps" for a reason. Get ready to work your lower back, abs, and obliques in this epic, 10-move drill.
Core 2
You've survived Core 1. Now the reps are doubled—to test your limits and maximize the burn.
Resistance 1
These are 5 simple moves, but with 3 back-to-back rounds, the challenge is intense. That's how you get results in just 22 minutes a day.
Resistance 2
Did we hear you ask for more? Here it is. More resistance. More sweat. More muscles recruited.
Resistance 3
This workout takes the intensity up a click by adding plyometric strength training to challenge your endurance.
FITNESS TOOLS
Quick Start
Mission Guide
It's go time! Here are the simple steps to make 22 MINUTE HARD CORPS fully operational. Take your PT Fit Test, so you can track your progress.
Rations for Results Nutrition Field Guide
A basic but satisfying nutrition plan that lays out the three squares and snacks you'll need for the mission ahead. It makes meal prep easy so you can get back to the business of getting results.
8-Week Basic Training Action Plan
If you want Hard Corps results, you have to get with the program. With this 8-week calendar, I make it easy to plan your workouts and track your success.
3 BONUS GIFTS
Bonus Gift 1
HELL WEEK CHALLENGE CARD
Accept the challenge—commit to a bonus week of Hard Corps workouts, and push your results from great...to absolutely epic.
Bonus Gift 2
COLD START
PRE-WORKOUT DRILL
Fire this up before you get down to work. This no-nonsense warm-up gets your body ready for the challenge ahead.
Bonus Gift 3
24/7 ONLINE SUPPORT
Get FREE access to 24/7 support, advice from fitness experts, plus regular tips from your PT leader, Tony Horton.
PROBLEM:
I WANT A GREAT DEAL.
SOLUTION:
"HOW ABOUT NEARLY $600 OF VALUE
FOR LESS THAN $50?"
TONY'S PRIVATE CLIENTS PAY OVER $600 PER DAY FOR TRAINING AND THE TOTAL VALUE OF THIS PACKAGE IS OVER $550
FOR 8 WEEKS OF
22 MINUTE HARD CORPS TRAINING
TODAY'S PRICE
Payments of $24.95
STILL DECIDING?
LET'S MAKE THIS EASY...
22 MINUTE HARD CORPS COMES BACKED BY THE MOTHER OF ALL MONEY-BACK GUARANTEES!
"I KNOW YOU'RE GOING TO SUCCEED
WITH 22 MINUTE HARD CORPS..."
In fact, I'm so sure of it, I'm going to let you keep all 5 CARDIO and CORE workouts, plus the Rations For Results Nutrition Field Guide, as my FREE gifts—even if you return everything else—just for trying 22 MINUTE HARD CORPS!
FREE BONUS IF YOU ORDER NOW!
GET A FREE UPGRADE TO EXPRESS SHIPPING!
Let's sweeten this deal just a little bit more.
Order now and we'll upgrade your order to Express Delivery—a $15 value—FREE!
That way, instead of waiting 2 or 3 weeks, you'll be building your Boot Camp Body in just 7 to 10 days!
I'M READY TO COMMIT
TO 22 MINUTE HARD CORPS!
Send me the complete 22 MINUTE HARD CORPS program, including my 3 FREE gifts, with your ironclad 60-Day Money-Back Guarantee (less s&h), and upgrade me to Express Shipping so I can get started right away, for 2 easy payments of $24.95 (plus $24.95 s&h).
Beachbody®
60-Day Money-Back
Guarantee
Carl Daikeler
Chairman & CEO, Beachbody, LLC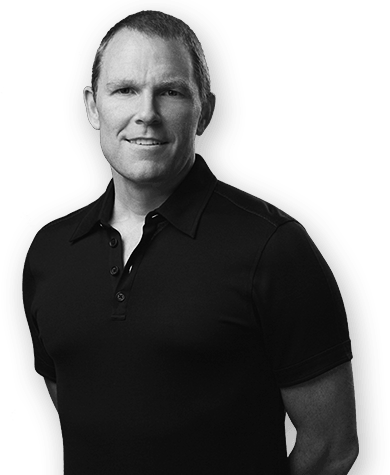 Tony Horton
Trainer Tony Horton has collaborated with Beachbody® to create some of America's most groundbreaking and popular fitness programs—P90X®, P90X2®, P90X3®, Power 90®, P90®, 10-Minute Trainer®, and now 22 MINUTE HARD CORPS™—selling a combined 7 million copies to date.
Over the past 25 years, Tony's perfect mix of body-sculpting routines, inspiration, and fun have produced exceptional results for people all across the country—including countless film celebrities, TV stars, and pro athletes—many of whom have credited him with improved stamina, strength, and an ability to perform at a higher level.
Known for helping people push past their plateaus, Tony has also worked with the Pentagon and Armed Forces Entertainment to help develop stronger, healthier troops. And he has frequently visited Capitol Hill to train various members of Congress and help spread the word about the importance of health and fitness.
Tony has been featured in numerous national publications including Men's Fitness, The New York Times, The Wall Street Journal, and Women's Health; and he has appeared on national television shows such as the Today Show, Good Morning America, Piers Morgan Live, and The Dr. Oz Show.